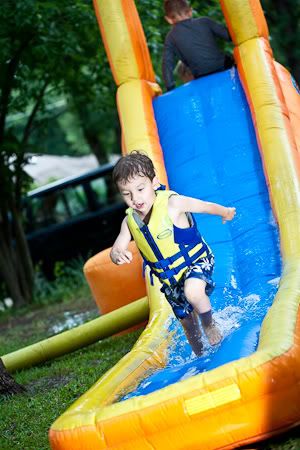 The boys had lots of fun playing in the water yesterday. We bought a little Slip and Slide on clearance at Target (not pictured). We got home and  put it together with a friend who was over to play. We were all so excited! The boys lined up at the end of the long, plastic piece of pure summer enjoyment (at least that's the way I remember it) and took off! They plopped their bodies down on the end and slid a foot or two. We soaped it up and they slipped a little bit more. Our slip and slide was a dud.
The boys looked at me with the same level of excitement and said, "Can we bring out the slide??!!" (imagine cute little puppies, nodding, jumping and wagging their tails)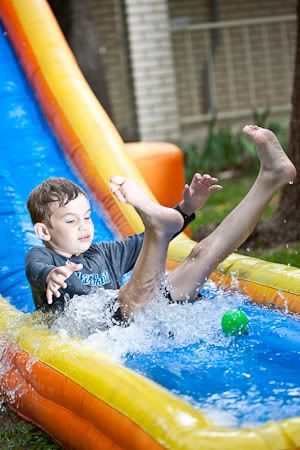 Ugh, I really dislike setting up and  taking down the slide (I also dislike the dead grass that comes when I leave the slide up too long because I dislike putting it up so much). I thought about it a minute and then opened the garage to do something for them that they would really enjoy even though it meant a little work for me. I had, after all, blogged that I was  going to fraddle with the boys… and sometimes fraddling means doing something for others that you really don't want to do.
So, today's Thought Provoking Thursday is to encourage us to think about saying yes the next time we want to say no… the next time someone asks you to do something that might inconvenience you, but bring that person great joy.
Now, I have a big muddy mess and a slide to go put away (but the memory of 2 very happy boys). :) Hope you have a GREAT day and the opportunity to say, "Yes!" ♥ Michelle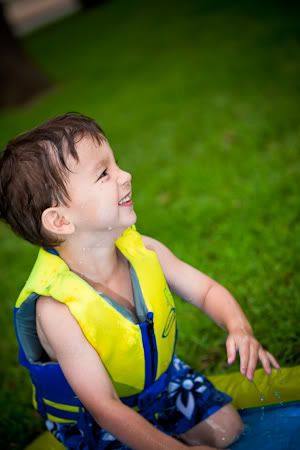 PS. My littlest one wanted the life vest on… I didn't encourage that for the slide. :)